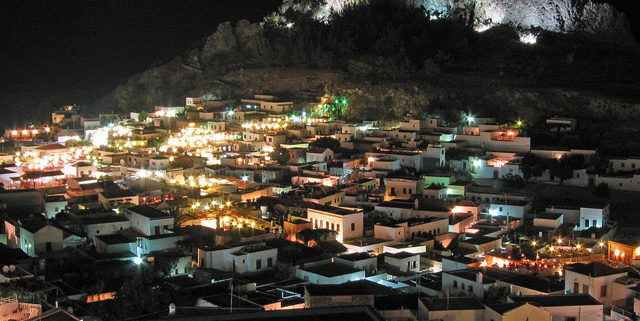 Evening escorted excursion
(Duration 4 ½ hours)
Visit the beautiful village of Lindos in the evening when all the small cobbled streets are alive with people meandering along taking in all the quaint little shops along the way.
Take advantage of the many tavernas and bars, sit back and enjoy this beautiful village which is dominated by the Acropolis of Lindos.
Lindos  is an archaeological site, a town and a former municipality on the island of Rhodes, in the Dodecanese, Greece. Since the 2011 local government reform it is part of the municipality Rhodes, of which it is a municipal unit. The municipal unit has an area of 178.900 km2. It lies on the east coast of the island. It is about 50 km south of the town of Rhodes and its fine beaches make it a popular tourist and holiday destination. Lindos is situated in a large bay and faces the fishing village and small resort of Charaki.
History
Lindos was founded by the Dorians led by the king Tlepolemus of Rhodes, who arrived in about the 10th century BC. It was one of six Dorian cities in the area known as the Dorian Hexapolis. The eastern location of Rhodes made it a natural meeting place between the Greeks and the Phoenicians, and by the 8th century Lindos was a major trading centre. In the 6th century it was ruled by Cleobulus, one of the Seven Sages of Greece. The importance of Lindos declined after the foundation of the city of Rhodes in the late 5th century.
In classical times the acropolis of Lindos was dominated by the massive temple of Athena Lindia, which attained its final form in around 300 BC. In Hellenistic and Roman times the temple precinct grew as more buildings were added. In early medieval times these buildings fell into disuse, and in the 14th century they were partly overlaid by a massive fortress built on the acropolis by the Knights of St John to defend the island against the Ottomans.