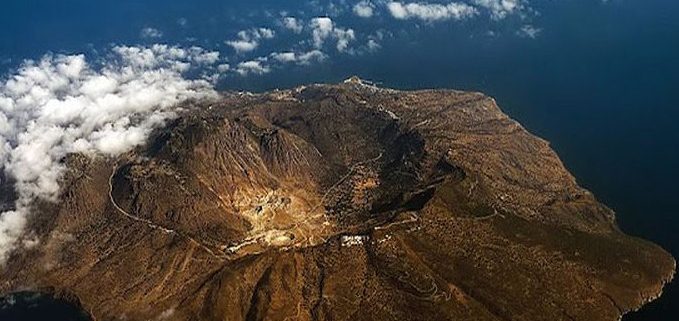 Full day escorted excursion 
(Duration 9 hours)
Wild beauty, intense colours, black rocks, gleaming white houses, with colourful doors and windows, along with a volcano that sways between been dormant but not completely inactive.  Testament to its past stands the castle of the Knights of the Order of St. John over Mandraki, which is the island's capital and harbour. This picturesque settlement of about 500 inhabitants is spread along a hillside. Its traditional houses are brightly painted and have well-kept courtyards. At the centre of the town there is the large square of the elderly and one of the traditional buildings houses a significant folk art collection.
At the top of the hill is the Castle of the "Knights of the Order of St John" and the Monastery of "Panagia Spiliani", the island's patron saint.
The volcano stands on "Laki plateau". The landscape suggests the surface of the moon as the lush vegetation gives way to volcanic rock. The volcano is at the present dormant, but the strong odour of sulphur, as well as strange noises coming from it, makes its presence evident. Access to its interior is possible through steps that lead down into it at a width of 30 metres and a diameter of 260 meters. Lunch not included.
Full day sea excursion: Departure from Kos at 08:30 hrs and arrival back to Kos at approx. 17:00 hrs