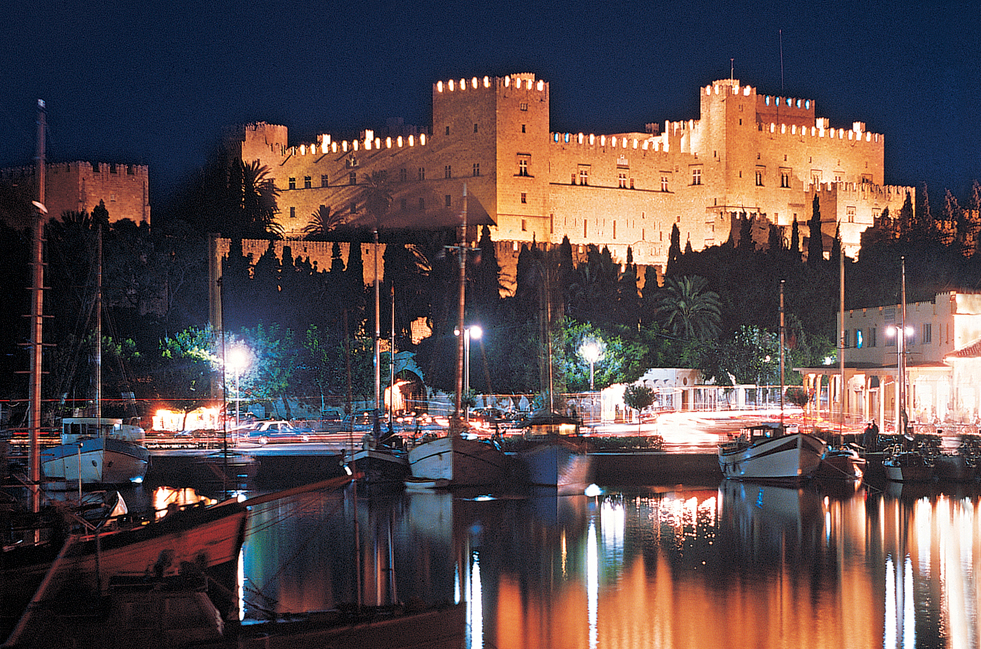 A  JOURNEY THROUGH TIME IN THE MEDIEVAL TOWN OF RHODES
Why did  you choose the island of Rhodes for sure  you were told about the stories of the 'Medieval Town of Rhodes'  – perhaps  to the "Castello",  indeed one of the best ways to start exploring your holiday.  A magical town not to be missed!
The medieval town of Rhodes, one of the few fortified settlements from the Middle Ages to have survived almost entirely undamaged – complete with its original walls, layout, public buildings, places of worship and residences –  In 1988, UNESCO declared the architectural complex of the Knights of Rhodes to be World Heritage Site. This status places it among those venerable monuments to humanity's cultural and natural heritage with outstanding value to the global community. The ancient city of Rhodes was founded in 408 BC with the "merger" of three ancient cities of the island: Kamiros, Ialysos and Lindos.  In Byzantine times the city shrank in size, but without losing its geopolitical significance.
The Medieval Town of Rhodes acquired its current form after the arrival of the Knights of St. (worth strolling around).  John of Jerusalem, who ruled Rhodes from 1309 to 1522, when the island was conquered by the Ottomans.  Major renovations of the Palace of the Grand Master and the town's fortifications under Italian rule (1912-1947) further shaped the Medieval Town.  In 1948, the Dodecanese Islands were incorporated into the Greek state, and the responsibility for the protection of the Medieval Town of Rhodes passed to the Ministry of Culture.
Among the Medieval Town's many historic buildings, pride of place is taken by the Palace of the Grand Master.  This building is believed to occupy the site of the Byzantine acropolis, with construction have begun immediately after the Knights of St. John settled in Rhodes in the early 14th century.  The ground floor hosts two permanent exhibitors' about the town which cover ancient of medieval times, while on the first floor, visitors can observe items and mosaic floors that the Italians used to decorate various halls in the 1940's.
The Archeological Museum of Rhodes, meanwhile, is housed in the medieval building of the New Hospital of the Knights.  The museum's collections include artifacts' dating from the early bronze age to the Roman era.  A number of these finds were unearthed on Rhodes during excavations conducted under Italian rule, while others were discovered in more recent decades.  The museum's exhibits aim to highlight and promote understanding of Rhodes' ancient history.
Make sure that you have some time to stroll around the walls and admire the Medieval Moat from the top, a beautiful free walking area!
https://topeurotravel.gr/wp-content/uploads/2016/11/topeurotravellogo.png
0
0
admin
https://topeurotravel.gr/wp-content/uploads/2016/11/topeurotravellogo.png
admin
2021-08-06 12:24:45
2021-08-06 12:44:16
A Medieval Fairy Tale